I Thought I Had More to Say
New Years brings resolutions. They usually involve starting something or doing more of it. In the case of some bloggers, it is a time to stop.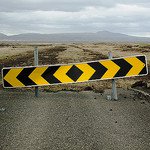 I started this blog because I thought I would have a lot to say about my writing experience. Before making my first post, I had written a few drafts and had a nice list of future ideas. I was off to a great start. After a few months, I had used up all my ideas and only a few new ones were forthcoming. It turns out, there's only so much to say about one's writing when that is all one is doing. Were I to the point of publishing or promoting a book, I'm sure I would there would be much more to talk about.
I could continue with my writing theme by curating web content on the subject. There are already many blogs that do that and you don't need another. I've decided to stop posting for now to rethink the future of this blog. For those of you that have been reading my blog, thanks for dropping by. I may be back.
Categories: Writing