Making Yourself a Deadline
I recently read that 95% of all blogs are abandoned. I abandoned one myself on a different subject. So I feel even a few months of blog entries on this blog makes me a survivor. I've also found that it has a nice side benefit.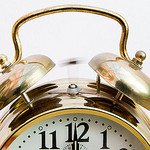 It was easy when I started. I had a number of drafts already done for post and number of ideas for additional ones. After about two months, I had used them all up and was down to week to week in their creation. No sooner than I finish a blog entry, I have to start thinking about the next one. I don't put much effort into it at first, but as the week passes, it becomes more pressing. I start to think more seriously about it on the weekend. By Monday morning, there's no more procrastinating. It's time to sit down and write whether or not I have an idea for it. I usually finish the rough draft that day and then on Tuesday morning I edit it, add the html, and post it.
If I hadn't decided on a once a week schedule and instead only blogged when I felt a subject come to me, I don't know if I would still be at it. Without that publication day deadline looming over me, there's nothing incentivizing me to write on a regular basis.
I haven't created any deadlines for my other writing yet as I try to write every day, but I don't require myself to write anything specific. I'm beginning think setting a deadline to write a short story or a chapter may help.
Categories: Writing