My Writing Routine
I've only been writing extensively on a regular basis for about seven months now. It took a lot less time than that to settle into a routine that works well for me. The three factors I addressed were time, frequency, and location.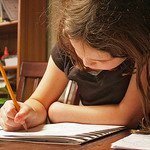 I have the great fortune of being retired from full time work so I can write pretty much anytime I please. A few years ago, when I was only writing a day book, it wasn't important when I did it. Sometimes I'd let it slip and then make several entries in a single day. The problem was, I would forget what I had done on the distant days. Later, when I changed to a diary form of writing, I would write just before I went to bed. It didn't take much thought as I was just recording the events of the day.
When I started to do creative writing, a lot more thought and effort had to go into it. I first wrote in the afternoon. I would get all the chores for the day out of the way and then sit down to write as my last piece of work. This posed two problems. One was that the day's chores could end up eating up all my time and I couldn't squeeze in any more for writing. The other was that the events of the day could exhaust or stress me and I would be too distracted or tired to write well. I needed a better approach.
I decided to make writing the first task I did in the morning. I don't start straight out of bed. I usually read a little before getting up. Once up, I have my breakfast while I read online newspapers and check Facebook. After I do my Sudoku puzzles, I make an espresso and I'm ready to go. The routine gives me time to fully wake up and get my mind going.
Writing also has to be an every day affair for me. It would be too easy to let it slide if I didn't wake up everyday thinking I had to write. I do miss days. When I do volunteer work and have to get up at 6:30 in the morning for a day of physical labor, I rarely have the energy to write in the afternoon. That's OK. I consider it as a missed day and I'm back at it the next day.
My primary location for writing is a room in my house that is sort of a library. My desk is currently a bunch of boxes and boards that are a prototype until I decide on a final design. I recently altered the set up to allow me to sit directly in front of one of my two monitors. The keyboard shelf is just above my legs. This eliminates the distractions of physical discomfort from typing for long periods.
When I sit down to write, I mute the radio, close the door to the room if necessary, and set my writing application to full screen mode. It's set up to completely blank out everything else on the screens. All I see is what I'm writing. The application even scrolls the text so that I'm always working in the vertical center of the screen. If necessary I can move the cursor to the top of the screen to get the status bar to appear so I can see the time or to the bottom to see my word count. This is about as distraction free as you can get. On days that the words won't come, it is essential.
Seven days a week in my quiet little cocoon can get to be a little too much after a while. To add some variety, I make a habit of taking my laptop to a nearby cafe once a week for lunch and writing. The cafe is in Palo Alto, California so it's not surprising that almost everyone else there has a laptop with them as well. There are even a few people with spiral note books and pens. I've yet to see a Moleskin. While I imagine most people aren't doing creative writing there, the fact that everyone is busy at their keyboards is invigorating.
The place is full of distractions. I use them to my advantage. I practice writing about a scene. I listen for all the noises: the espresso machine, the clinking of china, the barista yelling out names. I watch the other customers. I rarely can hear them so I imagine what they may be talking about by their actions. It's not important that I'm right. It was a gold mine of material when I first started going there, but it only took a few visits to exhaust the vein. Still, there are always new people to watch every time I go so it's still worthwhile. The location doesn't work if I have to concentrate on a piece. In that case, I return to the quiet and comfort of my home work place.
Tags: Scrivener - Writing Routine
Categories: Writing