A Roller Coaster Affair
I've only been doing serious creative writing for a few months and already it has become a roller coaster affair. On September 11, I was enthusiastically celebrating my launch into creative writing with great plans for short stories and a novel. Two months later on 6 November, I was celebrating how I overcame a writing slump and great productivity was ahead of me. It didn't last.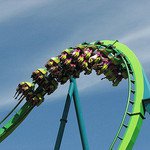 My productivity started to drop off. I was back down to 1000 words and then 500. I started to repeat myself, complaining about the same things over and over. On the day after Thanksgiving, I only managed to write a few sentences. I quit after fifteen minutes. I was in no mood to write and didn't even want to try. Serious doubts about my abilities as a writer loomed. The next day, I was in a better spirits and wrote for my full hour. The day after that I was back over 1000 words with a sketch for a new story. I was out of the slump.
By now, I know better than to think writing slumps are behind me. As painful as they are, I may have reached the point where I may actually enjoy the struggle of getting out of them. When I do, I feel I have learned something about myself and feel reinvigorated as a writer. At least that's what I telling myself now that I'm not in one.
Given all the web pages I see for writing prompts and tricks to get out of writers block, my dilemma is far from uncommon. Even my struggle to think of story ideas in not unique. In the Paris Review article The Art of Fiction No. 137, Alice Munro, this award winning published author said "I only seem to get a grasp on what I want to write about with the greatest difficulty. And barely."
I have no idea what methods I will use in the future to assist me in writing. What I do know is that I need to sit down everyday and at least try to write. If I am at a loss for an idea, I have to keep my fingers on the keys and to continue to type. The constant production of words, however random, seems to prime my consciousness for greater things.
Categories: Writing