Starting a Blog
This is my second blog. I started one on photography a few years ago and only managed a few entries before I stopped. I just couldn't think of anything to say that already hadn't been said many times before by other bloggers. I told myself that if I ever started another blog, I wouldn't abandon it.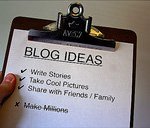 When I became more serious about writing, one of the first things that came to mind was to start another blog. The two went together. This one had to work so I had gave it quite a bit of thought before starting out.
The first decision was to determine what type of writing blog it would be. I did some research on the web and found that there are three types of blogs that applied to writing: expert, curator, and growth. The expert blog is pretty obvious: someone who has a considerable amount of experience and wishes to pass it on. On the web, a curator is someone who consolidates information from other blogs and the web in general. A growth blog imparts the growth of the author in a particular field. I certainly couldn't write an expert blog and being a curator didn't interest me so the growth blog it was. Since I was at the beginning of a creative writing career, it was a natural fit.
Now that I knew the type of blog I wanted to write, I needed material. Before even thinking about officially starting my blog, I wrote drafts of a half dozen or so posts and ideas for a half dozen more. It gave me a feel for the effort it takes to write a post and a nice backlog of entries while I got up to speed.
The next decision was how often to blog. My most important consideration here was to blog at a pace I could manage. I chose once a week. A longer interval would be just too infrequent. Followers would loose interest and it would be easy to let it stretch out. A weekly publication would always keep me thinking about what to write next. I can always blog more frequently in the future. Increasing your rate is usually welcomed by readers. Decreasing it is not.
When it came to my blogging platform, I could have created an account on wordpress.com and had one set up in a matter of minutes. Instead, I indulged my geeky side. I added the WordPress software to my personal web site and coded my own theme to make it fit the look and feel of the rest of the site. It's a lot of work. I love website programming and design as much as I do writing.
With everything in place, I finally took the plunge and published my first post. I've been at for three months now. This one is my thirteenth. My thirteenth birthday was on Friday the Thirteenth so it's my lucky number.
I write my blog entries in Scrivener since I use it for all my other writing. It allows me to keep all past, current, and future blog posts in one place along with links to research material and general notes. I use Multi-Markdown formatting within the post. Once I finish, I compile it. The Scrivener compile converts the Multi-Markdown in the document to HTML. I then copy and paste it to the WordPress HTML tab for a new post. I don't use the Visual Editor because it will strip out my HTML. I generally need to add extra HTML for links and special formatting that Multi-Markdown doesn't support so I do that in WordPress. It may sound like a lot of work, but once I had it set up, it goes pretty quickly.
Not being content with one blog, I started another one on tumblr. I wanted to be able to blog about things besides writing or make short entries that I could link from Twitter. The link for it is in the footer of this page. I don't make regular entries there.
Tags: WordPress - Scrivener - Tumblr - markdown - Blog
Categories: Software Development - Writing