Writing Prompts
In browsing the web on the subject of writing, I had seen links to sites of writing prompts, but never looked into them as I was doing pretty good without them at the time. Last week, while reading my Twitter feed, I saw a post for a writing prompt. It suggested writing from the point of view of an object involved in the story. I loved the idea and immediately wrote one. I decided another look at writing prompts was warranted.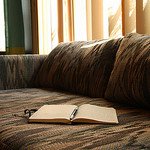 If you enter "writing prompts" in your web browser search field, you will see no end of sites on the subject. There are sites with prompts for elementary, middle, high school, and college. There are prompts by subject: history, social studies, creative writing, journaling, etc. You can even find numerous writing prompt apps on Android and IOS.
The types of prompts vary as well. Some give you phrases like 'late again', 'the last time I saw him', or 'keeping a secret'. Some set an opening scene so you can take it from there. Others give you a real word exercise to inspire you. I'm sure there are many other types.
Why do we as writers need so much help? I thought we were a real creative bunch with me being one of the exceptions. It gives me comfort to find that a lot of other writers have the same problems as I do. The more I write, the harder I find it to do. It gets easier at some point, doesn't it?
Categories: Writing