Cocktails
As a kid I had a chemistry set and I loved to mix chemicals together to see what would happen. I never did pursue it as a career, but I did transfer my love of mixing things together to making cocktails. The upside was now I could drink them. Unless otherwise noted, all juices are fresh squeezed.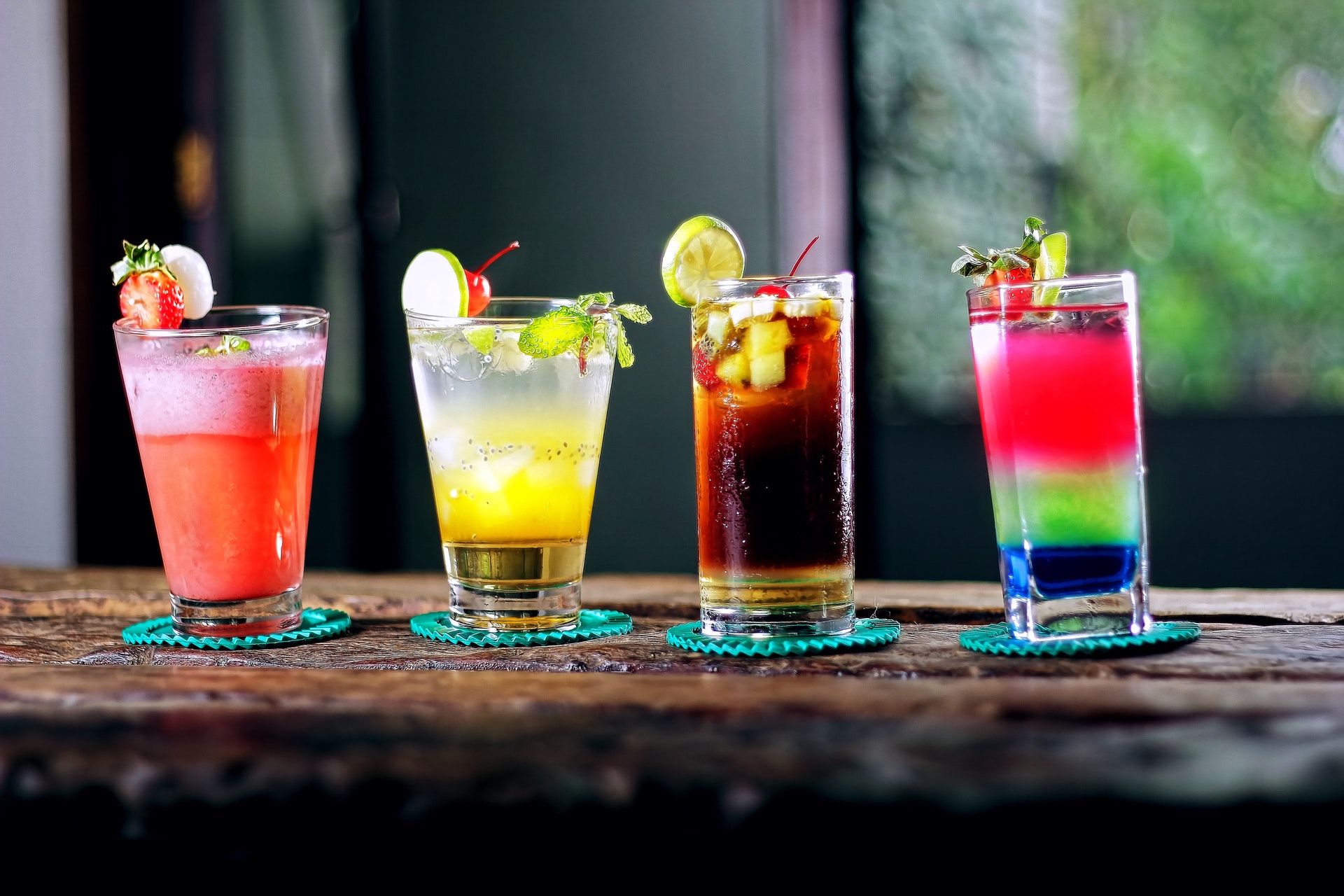 Jasmine
This recipe is an exception. It is almost exactly as Paul Harrington created it. I found it on Hardwired Cocktails website years ago, now long defunct. It was one my first attempts at making a cocktail. It's here for sentimental reasons. It's also a very good cocktail.
1 ½ oz

London dry gin

¾ oz

lemon juice

½ oz

Campari

½ oz

Cointreau
Shake with cracked ice and strain into a coupe glass.
I generally use Bombay Sapphire gin. It has less of a bite. Tanqueray No. Ten works as well. I've also tried Magellan with success. The original recipe called for ¼ ounce of the last two ingredients. That made it far too sour for me. Your taste may be somewhere in between.
Catastrophe
This cocktail a catastrophe in your mouth as it may explode your taste buds and give you an involuntary shudder. The bitter of the amaro and acid of the lime is countered by the falernum, which is quite sweet. The rum adds a nice depth. All the ingredients in this cocktail are strong so be prepared.
1 ½ oz

Dark Rum

1 oz

Amaro Sibilla

1 oz

John D. Taylor's Velvet Falernum

½ oz

fresh lime juice
Shake with ice and strain into a coupe glass. Garnish with a lime peel.
Final Word
This recipe is based on the Last Word cocktail. I've changed an ingredient and the proportions enough to merit a new name.
1 oz

Ransom Old Tom Gin

¾ oz

lime juice

¾ oz

Luxardo Maraschino Liqueur

½ oz

green Chartreuse
Shake well with ice and strain into a coupe glass. Garnish with a lime peel.
The original recipe called for Tanqueray Gin. I found it couldn't stand up to the strong flavor of the Chartreuse.
June Bug
I was trying to make Jane Danger's May Day cocktail. I misread the ingredients and skipped the Champagne. This is my pleasant mistake. It is a sweet cocktail.
1 oz

Plum Brandy or Cherry Brandy

1 oz

Creme Yvette

1 oz

Aperol

1 oz

lemon juice

½ oz

simple syrup

5 dashes

Fee Brothers Rhubarb Bitters
Shake with ice and strain into a coupe glass. Garnish with a lemon peel.
I found plum brandy or slivovitz hard to obtain, so I switched to cherry brandy. This drink is on the sweet side.
Sensim
I came up with this recipe trying to find something to mix with ginger liqueur, which has a strong flavor. It took quite a few attempts to reach this point.
1 ½ oz

Tempus Fujit Gran Classico

¾ oz

Domaine de Canton ginger liqueur

½ oz

lemon juice

½ oz

cognac
Shake well with ice and strain into a coupe glass.
Violet Lilly
This is a subtle variation on the Water Lily created by Richard Boccato. I replaced the Creme de Violette with Parfait Amour and the Cointreau with Mandarine Napoleon. Unfortunately, the colors of the two mixers clash. It's worth it for the improved flavor in my opinion. Parfait Amour may be hard to find. You can replace it with Crème Yvette, although it's hard to find as well.
¾ oz

Plymouth Gin

¾ oz

Parfait Amour

¾ oz

Mandarine Napoleon

¾ oz

lemon juice
Shake well with ice and strain into a coupe glass.
Mitsuko
I was a fan of lychee from the first time I tried it fresh. When I got into cocktails, I wanted to incorporate it in some way. I first tried a lychee liqueur, Soho. It only vaguely tasted like fresh lychee. After trying many recipes, I gave up on it and decided to try a lychee syrup instead. I went with Bacanha Organic Raw Lychee Syrup.
I first tried it in a recipe by Sarah Daniel called the Leapin' Lychee. She used canned lychee. It was a good cocktail, but I wanted to take it further. Hawaiian Sun makes a Lilikoi (passion fruit) Lychee drink that I like, so I added passion fruit syrup. Mine is by Small Hand Foods. There are number other brands available. The drink was getting pretty sweet. I added a dash of Bittermens 'Elmakule Tiki bitters to give it a bit of a bite and add another layer of flavor. Finally, I replaced the vodka with white rum (Banks Island 5 Blend) to go full tiki.
I tried the classic 1 ounce each light and dark rum. It muddied the color of the drink as well as the fruit flavors. Blanco tequila might be an interesting alternative.
The cocktail is named after a Hawaiian pal of mine who was very passionate and sweet.
1 ½ oz

white rum

1 oz

Midori

¾ oz

lime juice

½ oz

lychee syrup

½ oz

passion fruit syrup

1 dash

Bittermens 'Elemakule Tiki Bitters
Shake well with ice and strain into a coupe glass. Garnish with lychee if you have any or lime peel.