Cocktails
As a kid I had a chemistry set and I loved to mix chemicals together to see what would happen. I never did pursue it as a career, but I did transfer my love of mixing things together to making cocktails. The upside was now I could drink them. Unless otherwise noted, all juices are fresh squeezed.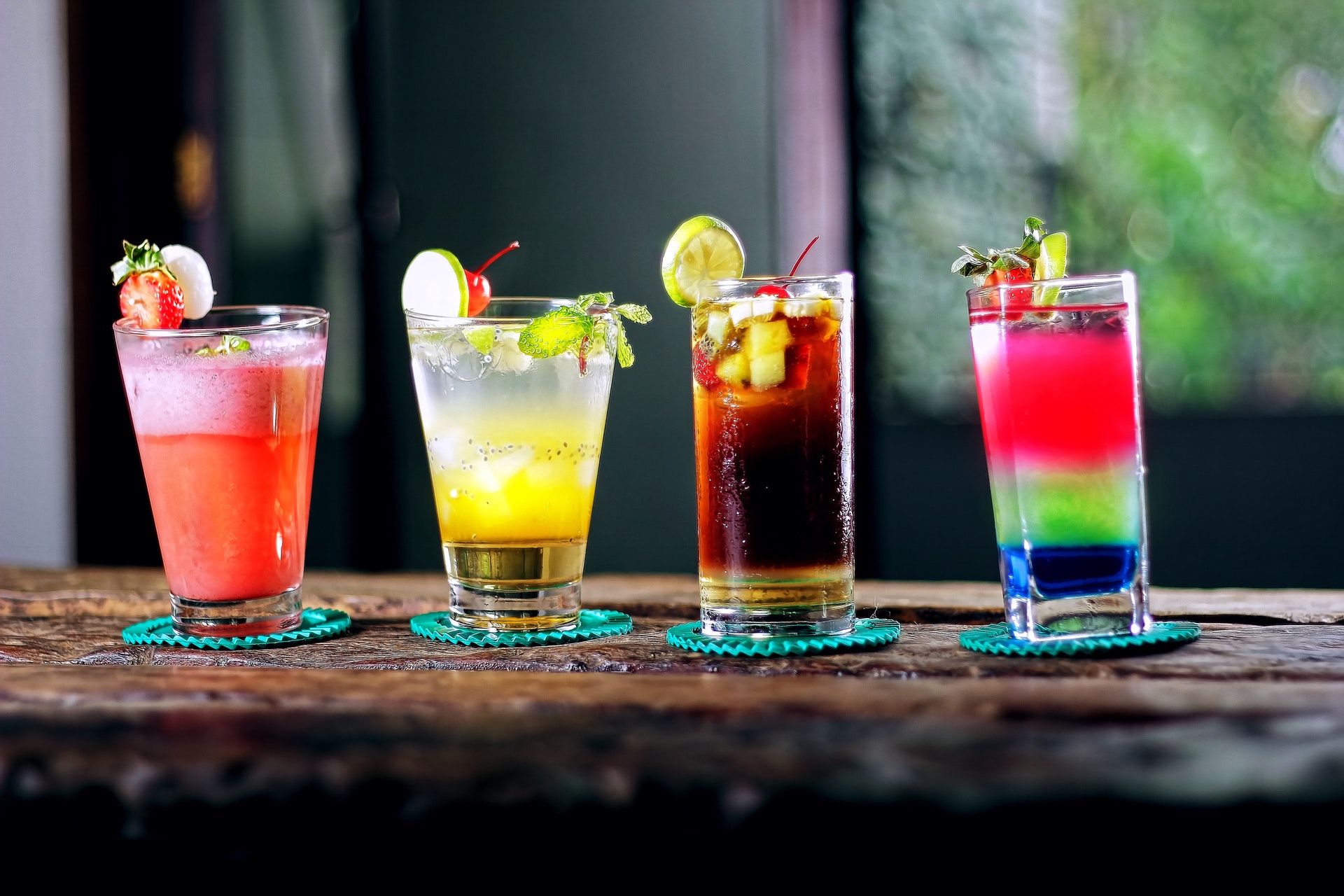 Jasmine
This recipe is an exception. It is almost exactly as Paul Harrington created it. I found it on Hardwired Cocktails website years ago, now long defunct. It was one my first attempts at making a cocktail. It's here for sentimental reasons. It's also a very good cocktail.
1 ½ oz.

gin

¾ oz.

lemon juice

½ oz.

Campari

½ oz.

Cointreau
Shake hard with cracked ice. I generally use Bombay Sapphire gin. It has less of a bite. Tanqueray No. Ten works as well. I've also tried Magellan with success. The original recipe called for ¼ ounce of the last two ingredients. That made it far too sour for me. Your taste may be somewhere in between.
Polentavo
This one is purely my invention. I went to a tasting at K&L Liquors, which is close by and I tasted a very small amount of the amaro in this recipe and thought it was worth a go. When I tried it at home, I found it way too strong to drink straight. What could I mix it with? The inspiration for this concoction is the the Corn and Oil. I thought the falernum was sweet enough to balance out bitterness of the amaro. It does, but this is still a very strong flavored drink.
1 ½ oz.

Cruzan Black Strap Rum

1 oz.

Amaro Sidilia

1 oz.

John D. Taylor's Velvet Falernum

½ oz.

lime juice
Shake well with ice and serve in a coupe glass. The Cruzan rum has a wonderful molasses smell to it, but lately I've been trying other dark rums. The amaro is the dominant flavor here. It may not make a lot of difference which rum you use.
Final Word
This recipe is based on the Last Word cocktail. I've changed an ingredient the proportions enough to merit a new name.
1 oz.

Ransom Old Tom Gin

¾ oz.

lime juice

¾ oz.

Luxardo Maraschino Liqueur

½ oz.

green Chartreuse
Shake well with ice and serve in a coupe glass. The original recipe called for Tanqueray Gin. I found it couldn't stand up to the strong flavor of the Chartreuse.
June Bug
I was trying to make Jane Danger's May Day cocktail. I misread the ingredients and skipped the Champagne. This is my pleasant mistake. It is a sweet cocktail, replace the Sloe Gin with a dry gin for a sharper taste
1 oz.

Plymouth Sloe Gin

1 oz.

Aperol

1 oz.

lemon juice

½ oz.

simple syrup

5 dashes

Fee Brothers Rhubarb Bitters
Shake well with ice and serve in a coupe glass. This drink is on the sweet side.
Sensim
I came up with this recipe trying to find something to mix with ginger liqueur, which has a strong flavor. It took quite a few attempts to reach this point.
1 ½ oz.

Tempus Fujit Gran Classico

¾ oz.

Domaine de Canton ginger liqueur

½ oz.

lemon juice

½ oz.

cognac
Shake well with ice and serve in a coupe glass.
Violet Lilly
This is a subtle variation on the Water Lily created by Richard Boccato. I replaced the Creme de Violette with Parfait Amour and the Cointreau with Mandarine Napoleon. Unfortunately, the colors of the two mixers clash. It's worth it for the improved flavor in my opinion. Parfait Amour may be hard to find. If you go back to the original creme de violette, try to find a soapy tasting one as it adds a nice note.
¾ oz.

Plymouth Gin

¾ oz.

Parfait Amour

¾ oz.

Mandarine Napoleon

¾ oz.

lemon juice
Shake well with ice and serve in a coupe glass.
Mychee Lychee
The first time I tried Lychee was when I lived in Hawaii. They can commonly be found fresh there. The pulp surrounds a seed and is encased in a hard shell. It has a wonderful mild tropical flavor. Now that I'm back in California, fresh lychee is nearly impossible to find and quite expensive. When I discovered a lychee liqueur, I had to try it. Its aroma is exactly like that of the fresh nuts. Given its mild flavor, the alcohol is a strong contender to it.
My starting point was the mixture of Lychee and Creme de Cacao. The latter is quite sweet on its own. When mixed with the Lychee, the sweetness completely disappears. It adds a rich note and a creamy texture. This recipe is still a work in progress. I'm showing you version 18 of my work on it.
2 oz.

Dark rum

½ oz.

lime juice

½ oz.

Tempus Fugit Creme de Cacao

½ oz.

Soho Lychee

4 dashes

Bittercube Black Strap Bitters
Shake well with ice and serve in a coupe glass.