The First Duttons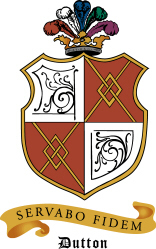 In the eleventh century, there were a number of people in Cheshire, England who could have called themselves De Dutton, the original family surname. That was because they all were de (from) Dutton which was originally known as Duntune, meaning town on a hill. However, it was Odard, who came to England in the train of William the Conqueror and was granted a third of the township in 1086 who was the first to use it as his surname.
Odard probably wouldn't have been so fortunate if William the Conqueror hadn't been his great uncle and the Earl of Chester his uncle. It was the Earl, Hugh of Lupis that granted the land at Dutton to Odard. This is also why we know so much about Odard's ancestry. Both he and William were descended from Rollo, the first Duke of Normandy. Rollo, in turn, was descended from the King of Finland as described in Scandinavian sagas. The direct male Dutton line continued for some 600 years.
In about 1150, Dutton Hall was built by Sir Geoffrey de Dutton next to the Weaver River. It survived on that site, in one form or another, until 1933, when it was moved. The site is now a stud farm.
The most authoritative text on the first Duttons was written by Peter Leycester, baronet and published in 1673. It was part of a greater volume, "Leycester's Historical Antiquites" of which a copy can be found here. Both Peter and his wife were descendents of Odard. Bear in mind that very little of this lineage is supported by primary evidence. Even Peter Leycester is in doubt on one of the generations: twenty three.
Generation Nineteen
DUTTON, Odard b ca. 1061 Normandy, France d Cheshire, England - First Lord of Dutton
Generation Twenty
DUTTON, Hugh b ca. 1096 Keckwick, Cheshire, England - II Lord of Dutton
m Alice Pichard b ca. 1106
Generation Twenty One
DUTTON, Hugh b ca. 1128 - III Lord of Dutton
m Alice, daughter of Richard Prescott
Generation Twenty Two
DUTTON, Hugh b 1155 Dutton, Cheshire, England - IV Lord of Dutton
m Isabell, daughter of Hamon De Massy, Baron of Dunham-Massy and Agatha De Theray
DUTTON, Adam de b ca. 1178 d ca. 1211
m Agnes Fitzalured
John - buried at Warburton
Agatha
DUTTON, Geffrey de Lord of Rocksavage
m heiress of Clifton
m Ellen, daughter of Robert de Chedill
Generation Twenty Three
DUTTON, Hugh - V Lord of Dutton
m Muriel b abt. 1191, daughter of Thomas le Despenser
m Alice, daughter of John de Lacy
Sir Geoffrey served in The Cursades in 1248
m Agnes, daughter of Hamon Masey Baron of Dunham
Margaret m Sir Geoffrey de Chedle d 1293
Generation Twenty Four
DUTTON, Hugh - VI Lord of Dutton
"This Hugh gave to John, his brother, the third part of all the Town of Bolinton in Maxfield Hundred, which Thomas le Dispenser gave in Free-marriage Hugoni Patri meo cum Muriela Matre mea; which Deed was made about the Year of Christ, 1234" from Leycester's Historical Antiquities
DUTTON, Sir Thomas b before 1249 d after 1268 - VII Lord of Dutton
m Phillipa, daughter and heir of Vivian de Sandon or Standon, Staffordshire
Thomas
Robert m Agnes, daughter of William de Mere
Margaret m William Venables, son and heir of Roger Venables
Katharine m John, son of Vrian de Sancto Petro
Sir Thomas was Sheriff of Cheshire 1268, 53 Henry III. He died in the beginning of the Reign of Edward the First. Phillipa was a living widow 1290 and 1294.
Generation Twenty Five
DUTTON, Sir Hugh of Dutton b ca. 1250 d 1294 - VIII Lord of Dutton
m Joann, daughter of Sir Vrian de Sancto Petro, vulgo Sampier d after 1298
Hugh b 1276
William m Maud, daughter of Sir Richard Stockport
Margaret
For the marriage of Katherine of the previous generation and Hugh of this, Cope says: 'I have no authority for this but an old pedigree'. According to P. H. Lawson, Sir Hugh married Margaret, daughter of Sir Hugh de dsp. Risley
Generation Twenty Six
DUTTON, Sir Hugh of Dutton b 8 Dec 1276 Dutton, Cheshire, England d 1326 - IX Lord of Dutton
m Joan daughter of Sir Robert Holland of Holland, Lancashire and Maud la Zouche, a possible descendent of Henry II, King of England
Thomas b 1314
William, Parson of Thorton
Geffery
Robert
Sir Hugh was made Steward of Halton, 24 Decembris, 20 Edward II
Generation Twenty Seven
DUTTON, Sir Thomas b 1314 d 4 May 1381 - X Lord of Dutton
m Ellen, daughter of Sir Peter Thorton of Thorton-Le-Moors
Peter d 1362
Thomas
Lawrence d 1392
Henry
William
m Phillipa, widow of Sir Peter Thorton (not the mother of Ellen)
Generation Twenty Eight
m 1360 Joan Minshall d 1387, daughter of Henry Minshull de Church-Minshull
Generation Twenty Nine
m Elizabeth Butler, daughter of Sir William Butler of Beusy, Lord of Warrington
Thomas
John
Richard
Parnel
Elizabeth
Ellen
Sibill
m Petronel Vernon, daughter of Ralph Vernon of Hatton
Generation Thirty
DUTTON, John b ca. 1410 Hatton, Cheshire, England
m Mary or Margaret Athurton, daughter of William Athurton of Athurton, Lancashire
John was mayor of Chester. He was buried at the pulpit along with his son Geoffrey.
m unknown
Generation Thirty One
DUTTON, Richard b ca 1454 Chester, England
m Mary Mainwaring (Mainwarne)
m Elizabeth Grossvenor
m Richard Manley
The genealogy from Odard down to this generation is from Leycester's Historical Antiquities pp. 248-260. The generations down to generation thirty nine can be found on a chart produced by P. H. Lawson F. S. A.
Generation Thirty Two
m Elizabeth Fouleshurst
DUTTON, Ralph b Chester, England
m Elanor (Elinor) Puleston, daughter of Sir Richard Puleston
Generation Thirty Three
m Agnes Conway, daughter of John Conway, Flintshire
m unknown Percy
DUTTON, Sir Piers d 1546 - XVII Lord of Dutton
m Elinour Legh
Peter
Hugh
Rafe
Katherine
Elizabeth
Anne
Margery
Margaret
Mary
Alice
m Julian Poyns daughter of William Poyns of Worthokiton in Essex, Esquire
Sir Piers was Sheriff of Cheshire 34 Henry 8
m Randal Brereton
William d 1536 Found guilty of adultery with Anne Boleyn and beheaded in the Tower of London
Generation Thirty Four
DUTTON, Hugh b ca. 1502 Dutton, Cheshire, England
m Catherine Wainright b ca. 1506 London, Middlesex, England
DUTTON, Thomas b ca. 1507 d abt. 1581
m Mary Taylor
Generation Thirty Five
m Elizabeth Kensall (Kelsall) b ca. 1540
Ralph b 1562 d 1638
Hugh b 1566
John and Elizabeth were from Frodsham
DUTTON, Randle b ca. 1540 Frodsham, Derby, England d 1601
m Alice Williams d 1593
Generation Thirty Six
DUTTON, Hugh b 1566 Woodhouses, Cheshire, England d 1626
m Jun 1598 Frodsham, Derby, England Dorothy Smith b ca. 1566 d 1628
Thomas b 14 Dec 1606
Richard b ca. 1608
Generation Thirty Seven
DUTTON, Thomas b 14 Dec 1606 Overton Township, Cheshire, England d 24 Jul 1653
m Mary Renny d ca. 1660
John b 1625
Elizabeth 1630 m Richard Smith
In her will of 4 May 1660, Mary (Renny) Dutton left the bulk of her estate to her grandson John, John's father having died before her. Also mentioned in the will were her daughter Elizabeth, her daughter in-law Ellin (Smith) Dutton, and her two other grandsons Thomas and Robert.
Generation Thirty Eight
DUTTON, John b 1625 Overton Township, Cheshire, England d 1659
m Ellin (Elizabeth) Smith b ca. 1625
John b 1647
Thomas b ca. 1649
Robert
Rebecca
Robert may have emigrated to America as did his brother John or at least planned to. The following is found in Henry Graham Ashmead's 'History of Delaware County, Pennsylvania', page 635:
At the southwest end of the township, extending eastward to the original Newtown Street, was a tract of five hundred acres surveyed to Robert Dutton Jan. 18-19, 1681. Dutton appears never to have lived on this estate, which subsequently passed, April 6-7, 1723, to Robert Tippring.
John emigrated in 1682.